Raffles Town Club members rue loss of site, sad to see 'very central' city location go
Raffles Town Club's current Bukit Timah site will be taken back by the government in October 2026 and redeveloped into homes.
New: You can now listen to articles.
Sorry, the audio is unavailable right now.
Please try again later.
SINGAPORE: When news broke on Monday (Nov 20) afternoon that the lease for the land occupied by Raffles Town Club would not be renewed upon its expiry in 2026, Mr Yar Hock Lam thought to himself: "It'll be a waste."
The social club's location at 1 Plymouth Avenue, in the heart of Bukit Timah, is what spurs many like Mr Yar to hold on to their memberships.
The 58-year-old businessman has been a member since 2000, the year the club opened. He goes to the club almost daily to exercise at the gym and use the private cubicles to get work done.
He has also become good friends with fellow members. On some occasions, they meet at the club and pile into one of their cars for trips to Johor Bahru, leaving the other vehicles behind due to the free parking for members.
"The location is very central. Most people like it here. There are a number of other clubs but they're on the outskirts (of the city)," he told CNA.
"I was looking at Singapore Recreation Club but I didn't quite like it … This place is much bigger and the gym is better, even though the equipment is 20-plus years old."
The fate of Mr Yar's beloved club is now up in the air, after the Singapore Land Authority (SLA) and Urban Redevelopment Authority (URA) announced that the land would be earmarked for future residential development.
Raffles Town Club sits at the junction of Whitley Road and Dunearn Road, close to Stevens MRT Station. It can operate there until its lease expires on Oct 17, 2026.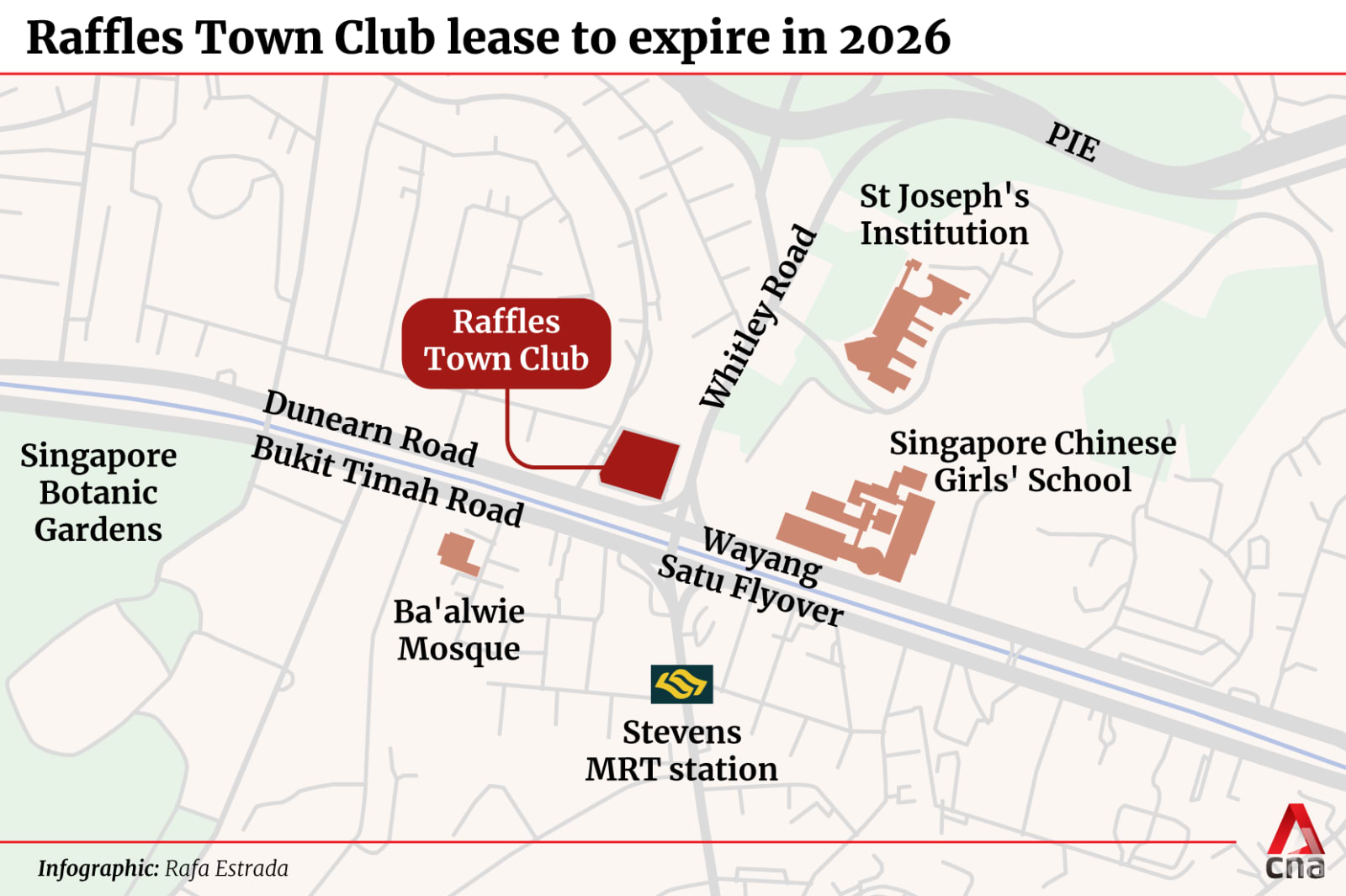 Should the club decide to continue operations after that,?SLA and URA said agencies will engage the club on the availability of suitable state properties through open tender, or the club can explore other options from the open market.
On Monday evening, a Raffles Town Club spokesperson said that members can enjoy the facilities until the lease expiration date. He did not address CNA's questions on whether it plans to relocate.
According to its website, the club currently has 14,000 active members.
LEGAL TUSSLES
Other club members told CNA that while they were sad to see the current location go, it was not unexpected as everyone knew the lease would expire in three years.
Despite its relatively short existence of just over twenty years, the club has seen its share of legal tussles. Shortly after it opened, about 5,000 members sued the club's shareholders for breach of contract and misrepresentation that it would be a "prestigious private city club" when, in reality, it had 19,000 members.
The members won the lawsuit in 2005, with damages assessed at S$3,000 for each member.
This kickstarted another series of legal proceedings, including a defamation lawsuit brought by billionaire Peter Lim against the club's then-owners over statements about how the damages should be paid out.
All Raffles Town Club memberships are currently closed, though individual memberships are available on the open market.
Madam Lydia Lee, 63, told CNA on Monday that many people have left in recent years due to the negative publicity surrounding the club.
Despite being a member since the club's inception, she had only started making use of the amenities?less than 10 years ago because "a lot of people oversubscribed" when the club opened, leading to overcrowdedness.

She said she was offered membership "at a privileged rate" when her previous club – Europa Country Club – closed down, but added that everyone was "shortchanged".
Unlike Mr Yar, she started out visiting the club only about once a week as it was a convenient location to meet clients and have meals with them there. She recently stepped up her visits to two or three times weekly, mostly to use the gym.
For Mdm Lee, there would be no love lost if the club were to shutter after its lease ends:?"A club is a club … I don't consider it a prestigious club. After it ends, then we move on."
Aside from sports facilities like a gym, tennis courts and a pool, Raffles Town Club houses a Mindchamps preschool, as well as several upscale food and beverage establishments like The Chinese Restaurant, Miyabi Japanese Restaurant and The Dining Room.
Members can also use the bowling alley, video games room, theatre?– where free movie screenings are held every weekend?– and billiards room.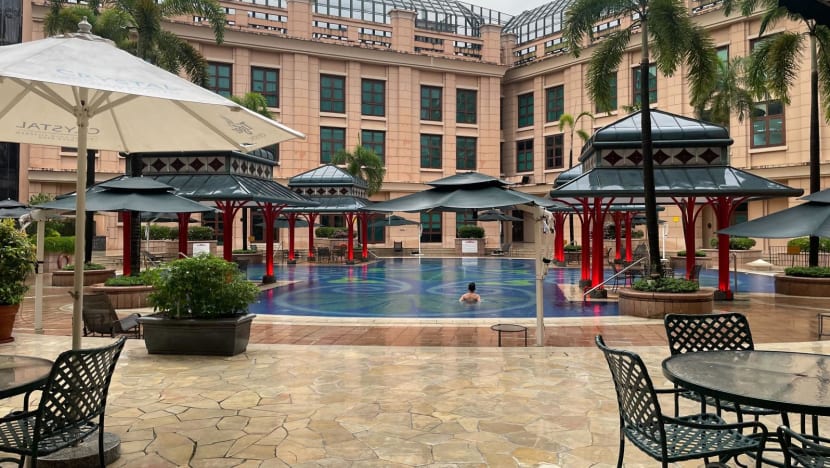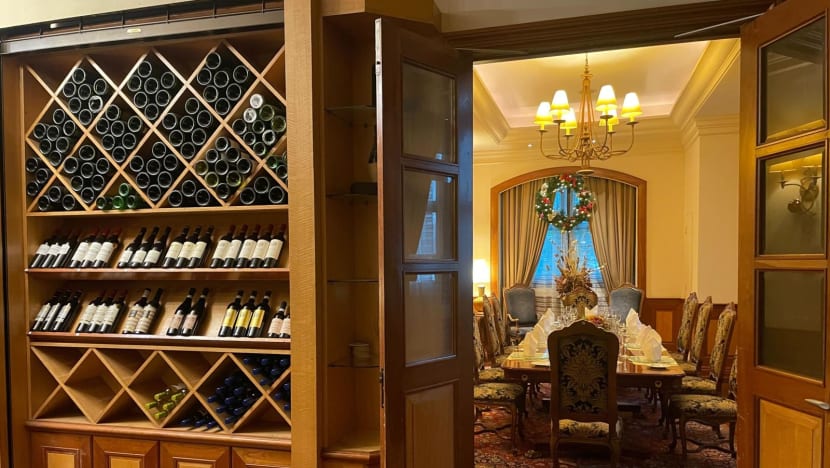 "SHAME TO TEAR IT DOWN"
Another member, a mother-of-four who only wanted to be known as Mdm Lim, said the club's location was perfect when her children were younger.
She signed them up for kids' programmes at the club and made use of the facilities when they were still attending nearby schools; one of them studied at Hwa Chong Institution, a five-minute drive from the club.
Now, she goes to the club only a few times a year.
Like other members whom CNA spoke to, Mdm Lim took up the "affordable" membership when the club first opened. She had hoped to sell it after some time but the legal entanglement the club found itself in made this difficult.
She was part of the lawsuit and ended up getting compensation. This time, she said she hoped the club would compensate members when the lease expires too.
"It's a 30-year lease so they don't want to renovate (the building)," she added.
A member who only wanted to be known as Mr Ong said he frequents the club due to the location – near his home and his children's school.
He has memberships at five other clubs but chooses to use the gym at Raffles Town Club once a week and dine at the restaurants there. He also hangs out with friends at the club.
"I feel sad," he said when asked about the land lease expiry.
"The building design, it's like a heritage building. It'll be a shame if they tear it down. The structure is good," he added.
"You see any other social club with this type of design and architecture? I don't think so."