Government to take back land occupied by Raffles Town Club after lease expires in 2026; location slated for residential use
New: You can now listen to articles.
Sorry, the audio is unavailable right now.
Please try again later.
SINGAPORE:?The lease for the land currently occupied by Raffles Town Club will not be renewed when it expires in 2026, with the land being slated for future residential development, said the Singapore Land Authority (SLA) and Urban Redevelopment Authority (URA) on Monday (Nov 20).

The club is located at 1 Plymouth Avenue, the junction of Whitley Road and Dunearn Road, close to Stevens MRT station.
Redevelopment of the site will "support future housing demand and enhance the residential character of the precinct",?said SLA and URA in a joint statement.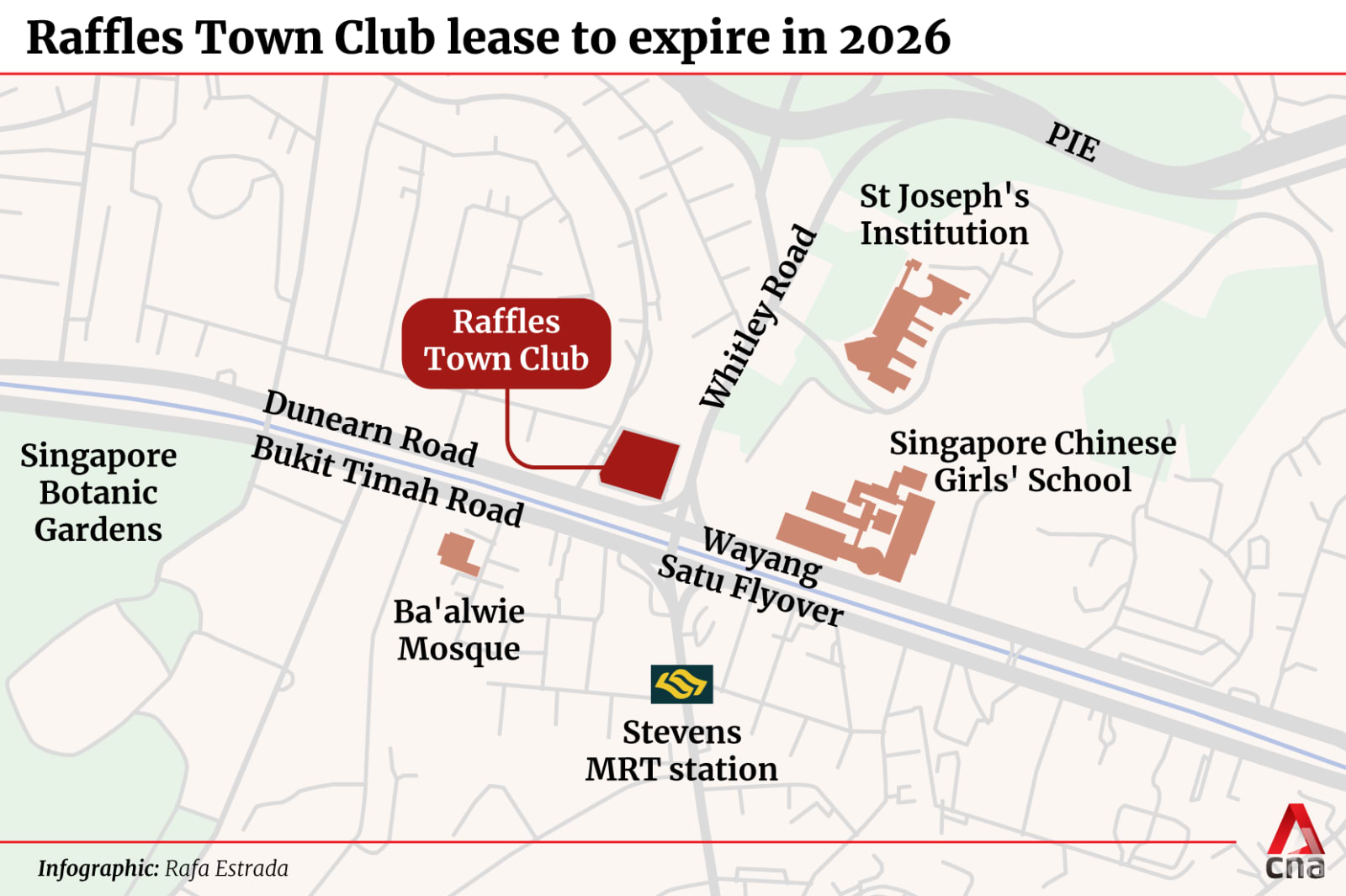 The move is also in line with the focus of redeveloping brownfield sites as much as possible to meet future demand for land, including housing, the two agencies added. As a result, the club's lease will not renewed upon its expiry.
"While the surrounding land uses on the side of the current Raffles Town Club are residential plots that are predominantly landed or with master plan plot ratios of 1.4, the RTC site is advantageously located at the corner and intersection of Whitley and Dunearn Roads," said ERA Singapore's key executive officer Eugene Lim.
"There is a possibility of a higher plot ratio being allowed on the site, like 1.6 or 2.1 such that a taller development may be built there to serve as a landmark for the intersection."
Huttons Asia's senior director for data analytics Lee Sze Teck said the site is likely to be sold for private homes since it is in a private residential enclave.
"The estimated land size is 132,639 square?feet. As the surrounding developments are low rise, this site may be ascribed a plot ratio of 1.4. It can potentially be developed into a prime luxury project with 160 to 190 units with an average size of 85 to 100 square metres," said Mr Lee.
"If the site is launched today, the estimated winning land bid may be more than S$1,500 per square foot per plot ratio (psf ppr)."
Raffles Town Club can continue its operations at its current site until its lease expires on Oct 17, 2026. SLA will work closely with the club on the return of the land to the government.
SLA and URA said if Raffles Town Club wants to continue operations after its current lease expires, agencies will engage the club on the availability of suitable state properties through open tender, or the club can explore other options from the open market.
In response to?queries from CNA, Raffles Town Club said that its management team was informed about the redevelopment plans by SLA on Monday, although it?"has always been known" that its lease would expire in October 2026.
"The management will continue to provide services to our members who may enjoy the club facilities until the lease expiry date in October 2026," said a spokesperson for the club.
The spokesperson did not respond to a question on whether the club intends to continue operations after the lease expires.
Raffles Town Club opened in March 2000. According to its website, it is affiliated with more than 50 international clubs in over 15 countries and six golfing destinations in Malaysia and Indonesia. The club currently houses a Mindchamps preschool.?
While all memberships are closed, prices of individual memberships on the open market range from S$8,000 to over S$9,000, with a monthly subscription of about S$80 for an individual or S$120 for a family.