Funeral directors association disagrees with competition watchdog study, says findings of unfair practices are 'flawed'
The industry body criticised the limited sample size of the survey and its use of anecdotal answers.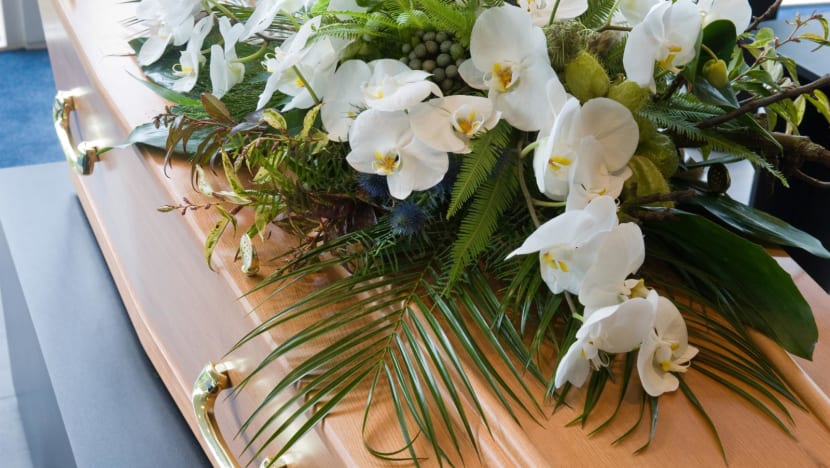 New: You can now listen to articles.
Sorry, the audio is unavailable right now.
Please try again later.
SINGAPORE: The Association of Funeral Directors (AFD) Singapore said on Monday (Nov 20) that it does not agree with a recent statement by the?Competition and Consumer Commission Singapore (CCCS), which encouraged funeral service providers to provide greater price transparency and clarity on packages.
In a letter responding to the findings of the CCCS study, AFD's executive director Hoo Hung Chye criticised the "limited" sample size of the survey, which?"did not reflect the actual composition of the population of Singapore".?
"Despite some valid points raised on service delivery, the AFD is surprised that the CCCS report uses anecdotal answers to stress shortcomings in services provided by funeral service providers to the public. This is flawed," said Mr Hoo. He added that the association was not involved in framing the survey questions and the areas to be covered.
Singapore's competition watchdog said on Friday that there was room for funeral service providers to provide greater transparency to consumers in terms of both pricing and non-pricing issues by adopting certain best practices.
"Funeral products (i.e. goods and services) are often procured at a time when a consumer is in emotional distress and facing time and social pressures," said CCCS.?
"This, coupled with market features of the funeral services industry that result in a low degree of price transparency, may put a consumer in a vulnerable position and impair the consumer's ability to make informed decisions on the purchase of funeral products, which is a significant and often unavoidable expenditure item."
The findings were released after the CCCS sought input from industry players, including the AFD and funeral services providers, conducted a consumer survey, and engaged care facilities and other relevant entities.?
Among its results, the study showed that arranging a funeral is "highly customisable" and may involve various add-ons, ranging from the option to embalm the deceased's body, to the type of casket and desired religious rites. It also found that consumers do not have a good sense of how much funeral products cost, and may not know the final price at the time of engaging funeral service providers.?
The CCCS had suggested that businesses could provide consumers with a reference list of optional items not included in the package and their corresponding prices.
The study also noted that consumers may encounter unfair practices, including the use of false or misleading claims such as a 'one-stop service', said the CCCS. This was misleading as it conveyed the impression that consumers would only have to liaise with one entity, when in fact,?communication with multiple vendors was needed.?
The CCCS also named two other unfair practices: The omission of material information, such as how the final price of funeral products may differ from the package price, and providers that ask for payment for products not requested by the customer.?
In tandem with the report's release, President of the Consumers Association of Singapore (CASE) Melvin Yong said that CASE had received 13 complaints against funeral service providers since 2021.?
"Most complaints related to pricing of funeral products and services where affected consumers complained that their final bills were much higher than what they were informed initially due to charges not disclosed at the onset," Mr Yong said in a Facebook post on Friday.
FUNERAL DIRECTORS ASSOCIATION'S RESPONSE
In his reply on behalf of the AFD executive committee, Mr Hoo said that contrary to the CCCS report, AFD members receive many public enquiries seeking information on funerals and have seen more people?pre-planning funerals. AFD currently has 31 members.?
"Consumers make buying decisions on many factors after doing their own research; pricing is only one of the factors. Funeral service purchase decisions are no different," he said.?
Mr Hoo also took issue with the number of complaints. He pointed out that?13 complaints over three years represented an "inconsequential" 0.01 per cent of Singapore's annual death rate, especially when compared to complaints for other types of service providers.
"Perhaps others should take a leaf from the funeral profession as to how to achieve a near zero complaint level," Mr Hoo said.?
Mr Hoo added that the report failed to differentiate between middlemen and proper funeral service providers.
"These 'middlemen' only have a business card to their name, with no office premises, no full-time staff, no caskets and no hearses. The public needs to be mindful of these low-cost price traps available on the internet, as they may end up getting what they pay for – a low service or no service standard funeral."
He said that members of AFD and true funeral service providers have their own premises, full salaried staff, embalming facilities, caskets and hearses, adding that consumers should visit the funeral service provider's premises before engaging them. ?
On the issue of price, Mr Hoo said it was difficult to offer fixed price funerals, as "no two funerals are similar".?
"Some families want less. Others want more. Funeral wakes can be over three, five or seven days. More often than not, the family makes additional requests during the funeral for items and services."
Conversely, customers may ask to remove services or products, and AFD members would "do their best" to tailor the funeral to the family's needs, said Mr Hoo.?
"A funeral service is a basket of goods and services, and not a single commoditized product. Funeral service providers have a responsibility to customize each service to best represent and celebrate the memory of the deceased."

CNA has asked CCCS for its response to AFD's rebuttal.