Lower-income families to get more help, including cash and debt clearance
Families with children in public rental housing can get cash, CPF top-ups and help to clear their debts if they meet certain conditions.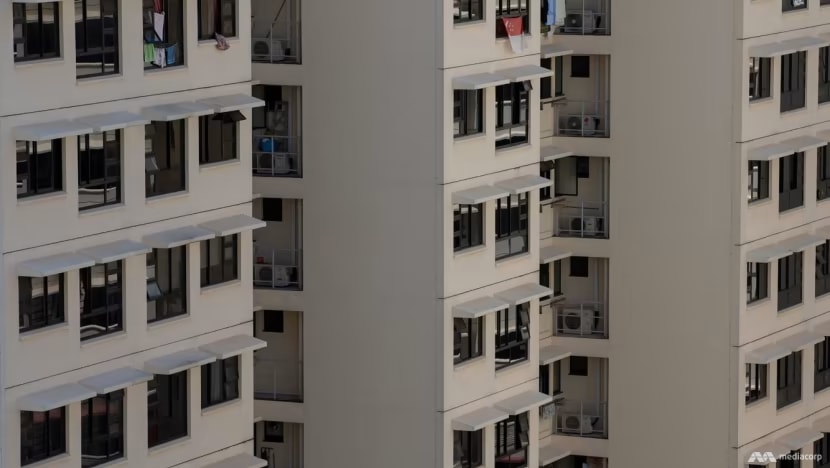 New: You can now listen to articles.
Sorry, the audio is unavailable right now.
Please try again later.
Eligible families that enrol their children by three and ensure they attend pre-school regularly will get top-ups to the Child Development Account?
Those who stay in stable employment will get cash and Central Provident Fund (CPF) top-ups
Families that take steps to pay off "verifiable" debt can get matching repayments
The government will match voluntary contributions to CPF to help ComLink+ families save up to buy a flat
SINGAPORE:?More financial help, tied to conditions such as having a stable job, will be given to lower-income families with children living in rental flats, Minister for Social and Family Development Masagos Zulkifli announced on Monday (Nov 20).
The new aid, which also covers preschool education, is part of an enhanced version of the ComLink scheme, which already helps around 14,000 such families.
"We have worked hard to get our fundamentals right, to provide quality education, generate good jobs, create different pathways to suit different strengths and make housing affordable," said Mr Masagos.?
"These latest moves for lower-income families build on the strong base we have established."?
The ComLink+ program?comes with two main changes - ?progress packages funded by the government and community, and dedicated family coaches.
The scheme was first announced by Deputy Prime Minister Lawrence Wong last month, and is part of changes to public policy the government is making under the Forward Singapore exercise to maintain social mobility.
Mr Wong had said that?Singapore wants to ensure no family in Singapore gets trapped in a "permanent underclass".
The four progress packages, to be trialled for three years, will provide financial top-ups to families that work with the family coaches and take "active steps" to improve their circumstances, said MSF.
They will be rolled out progressively from the second half of 2024, said Mr Masagos.?
These steps include enrolling their kids in preschool, getting a stable job, paying off debt and saving up for a home.
Families that enroll their children in preschool by age three will be given S$500 in Child Development Account (CDA) top-ups funded by a donor.
They can get an additional S$200 per quarter if they ensure that their children attend school regularly.
MSF said this will encourage families to prioritise their children's preschool education and improve their future educational outcomes.
Local research has shown that children who attend preschool from the age of three are less likely to require additional learning support in primary school, the ministry said.
INCENTIVES FOR STABLE JOBS, HELP WITH DEBT
A second package aims to help adults in ComLink+ families build financial stability by encouraging them to stay in CPF-paying jobs that pay at least S$1,400 a month.
Those who do so will get S$450 to S$550 in cash and CPF payouts every quarter, said MSF.
Higher top-ups will be given when two adults in the household work, but the top-ups are limited to a maximum of two working adults.
As these families have less disposable income and savings, they are more susceptible to falling into debt or arrears when faced with unexpected events like retrenchment or health issues.
Even a relatively small debt can have a severe impact on lower-income families financially, psychologically and emotionally, the ministry said.
To help these families, MSF will work with donors to fully fund a progress package that matches families' repayments to their creditors, up to S$5,000 in debt.
This package, which can only be used once, applies to?"verifiable debt". This is debt owed to licensed companies and organisations that can be verified and for which repayments can be tracked, MSF said. Examples include utility bill arrears, hospital bills or credit card debt.
Informal debts, such as those owed to family and friends, and to unlicensed moneylenders, are not covered.
ComLink+ families will also get help to save up for a home. A progress package jointly funded by a donor and the government will match S$2 for every S$1 families contribute voluntarily to their CPF.
"This will help families save up more quickly for their flat purchase and give them a better chance of fulfilling this aspiration," said MSF.
For this and the employment package, payouts will be limited to S$30,000 in total across the two support schemes.
With these new moves, families can receive parenting support and send their children to quality preschools in their early years, said Mr Masagos.?
Individuals who are motivated to secure a job are also supported by an ecosystem to acquire the skills they need, be matched to a suitable job and benefit from wage support, he added.?
"These moves demonstrate our community's commitment to invest in long-term outcomes. Rather than quick fixes, we want to enable families to build resilience and secure sustained stability and self-reliance, and ultimately social mobility," said the Social and Family Development Minister.?
"It may take a generation or more, but we know that by reinforcing families' ability to provide their children with a good start in life today, we give them a better chance for a brighter tomorrow."?
FAMILY COACHES, COMMUNITY PARTNERS
While there are ComLink officers who work closely with the families now, their roles will expand as family coaches.
The coaches will work with each family to develop action plans tailored to each family's needs. They will also coach and motivate the families to achieve their goals, and act as a single point of contact to help them better navigate social support services, said MSF.
"When families feel understood and supported, they are more likely to actively participate in the decision-making process and take steps towards their goals," said Mr Masagos.?
With support from family coaches, families have told MSF that they feel more optimistic about their future, he added.?
The ministry emphasised that the programme will be implemented with community partners. About 170 organisations and individuals are partnering Social Service Offices to support ComLink+ families.
DBS, for instance, is a package sponsor who will contribute to the CDA and CPF top-ups for the progress packages on children's education and savings.
Another ComLink partner, Singapore Pools, will help fund part of the progress package on debt clearance. This is projected to support up to 240 families, said Mr Masagos.?
Other ComLink+ partners include companies, charity and voluntary organisations, business associations and schools.
More financial help, tied to conditions such as having a stable job, will be given to lower-income families with children living in rental flats, Minister for Social and Family Development Masagos Zulkifli announced on Monday (Nov 20). Rebecca Metteo reports.
SOCIAL MOBILITY CAN REDUCE FUTURE WELFARE COSTS: ECONOMIST
Associate Professor of Economics Walter Theseira?from the Singapore University of Social Sciences said that such policies using "conditional cash transfers" have been established and trialled in many places.
It helps to integrate several mechanisms through which the families can achieve upward mobility, and encourage them to make behavioural changes, said Dr Theseira.
He noted that in Singapore's case, the top-ups are weighted towards CPF and CDA accounts rather than cash.
"I think the balance between providing cash in the present and the CPF top-ups for the future is critical. If you emphasise restricted account top-ups too much and these are not motivating or don't change financial resilience today, then it may not help," he said.
"At this point it is hard to say what the policy will be or what the right mix is."?
On helping families to clear small amounts of debt,? Dr Theseira said that the plan builds on evidence that chronic debt and financial insecurity create a "significant negative impact on cognitive functioning".
Research, including a local study he co-authored, shows much of the debts accumulated by lower-income households are for necessities such as utilities and housing arrears.
"If a one-off debt clearance programme can help people have a clean start, I think there are reasons why it could be considered, as long as it does not encourage new debt accumulation," he said.
He called the Comlink+ changes a "good move". "If policies like this succeed, they are going to break the intergenerational transmission of poverty, as there will be more social mobility which will reduce the long term welfare costs, rather than increase it," said Dr Theseira.
"So it is about spending more effort and public resources today, to avoid spending it in the future."