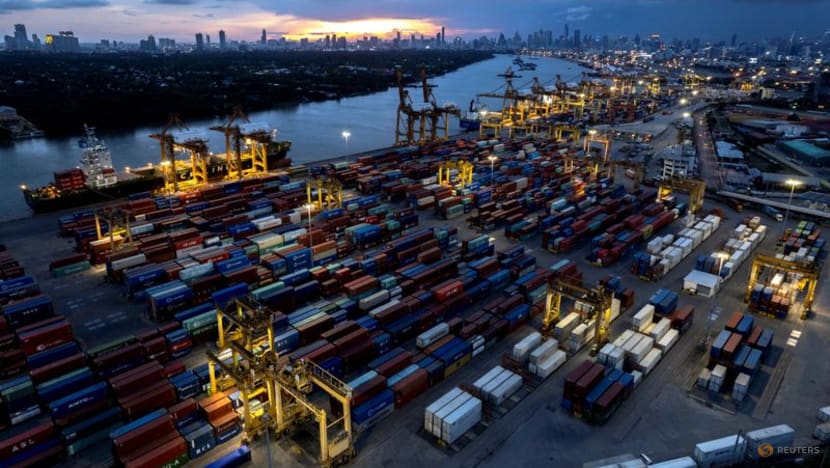 New: You can now listen to articles.
Sorry, the audio is unavailable right now.
Please try again later.
BANGKOK: Thai Prime Minister Srettha Thavisin said on Monday (Nov 20) he was "very worried" about much slower-than-expected growth in the third quarter, with the economy burdened by declining exports and government spending.
Gross domestic product (GDP) expanded 1.5 per cent in the July-September quarter from a year earlier, the National Economic and Social Development Council (NESDC) said, down from the 2.4 per cent growth predicted by economists in a Reuters poll.
"We were surprised by the number ... (but) will keep working hard," Srettha said, adding he had expected at growth of at least 2 per cent.
The quarterly growth was the slowest in the past three quarters, having risen 1.8 per cent year-on-year in the second quarter and 2.6 per cent in the January-March period, the state planning agency said, while predicting stronger growth next year.
Solid private consumption and a recovery in tourism prevented an even more disappointing performance by Southeast Asia's second-largest economy.
The government was planning more measures, including a package to boost tourism, Srettha said without giving details.
Sluggish global demand kept exports subdued, though the planning agency noted signs of improvement this quarter.
"Overall, the Thai economy continues to expand. But if we want to make the economy expand better than this, it must be restructured, especially in the industrial sector," planning agency chief Danucha Pichayanan said.
"In the fourth quarter, export momentum began to improve. It should make industrial production better as well."
The weak GDP data underscored the need for fiscal and monetary policy to "focus on growth over inflation", said Kobsidthi Silpachai, head of capital markets research of Kasikornbank.
The Bank of Thailand, will next review policy on Nov. 29 after a surprise increase in the key rate, to a decade high of 2.5 per cent, in September. Kobsidthi said he expected the central bank to hold rates steady through the first half of 2024.
Investor confidence in Thailand remained low despite the end of a protracted political deadlock following an election in May, with a new government coming to power in August.
The government has planned a raft of stimulus measures aimed at kick-starting an economy that has struggled in the wake of the COVID-19 pandemic and grew at just 2.6 per cent last year.
The planning agency said it expected the economy to grow 2.5 per cent in 2023, the lower end of a previous forecast range of 2.5 per cent to 3.0 per cent. It sees GDP growth of between 2.7 per cent and 3.7 per cent next year.
Next year's figures did not factor in a signature government stimulus plan to inject $14 billion into the economy via a "digital wallet" handout scheme for 50 million people to spend in their localities within six months.
Danucha said his agency would await more clarity on the stimulus plan before factoring it in to its growth outlook.
On a quarterly basis, GDP rose a seasonally adjusted 0.8 per cent in the September quarter, versus a forecast rise of 1.2 per cent, and against 0.2 per cent growth in the previous quarter.
The NESDC predicted a 2 per cent contraction in exports, a key driver of Thai growth, for this year, having earlier forecast a 1.8 per cent fall. For 2024, it expects exports to rise 3.8 per cent.
The agency maintained its forecast of foreign tourist arrivals at 28 million this year, and predicted 35 million visitors in 2024. Pre-pandemic 2019 saw a record of nearly 40 million arrivals.