CNA Explains: Myanmar's rebels are gaining ground with their latest attacks. Could they overthrow the junta?
Myanmar's military dictatorship appears to be struggling with its biggest threat in decades. CNA's Leong Wai Kit looks at what provoked "Operation 1027", and the implications for both country and region.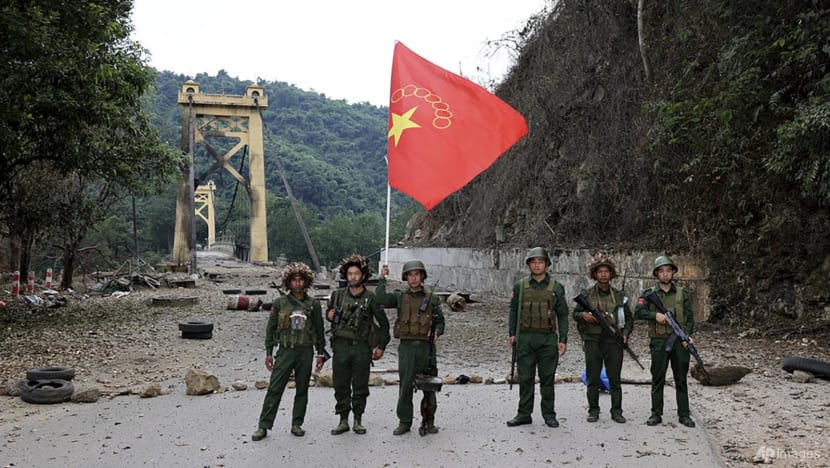 New: You can now listen to articles.
Sorry, the audio is unavailable right now.
Please try again later.
SINGAPORE: At 4am on Oct 27, a coalition of powerful ethnic rebel armies in Myanmar, known as the Brotherhood Alliance, launched a series of attacks on the ruling junta's forces in northern Shan state.
The alliance, made up of ethnic Arakan, Ta'ang and Kokang troops, aims to get rid of Myanmar's military dictatorship as well as eradicate notorious online scam syndicates operating near the border with China.
Their offensive, codenamed Operation 1027 to mark the date it began, has sparked similar attacks by other resistance militias in the country.
Hundreds of thousands of people have been displaced by the prolonged, coordinated fighting - which has also led to growing numbers of soldiers in the armed forces defecting or surrendering to the opposition.
How did the operation grow in scale?
On the day of the Brotherhood Alliance's attacks in Shan state, the Karen National Liberation Army breached junta offices in Kayin state, south of Shan.
Almost immediately, the National Unity Government - an administration formed in exile after Myanmar's 2021 coup - said its civilian troops, the People's Defence Force, would join Operation 1027.
Days later, the Arakan Army and Kachin Independence Army seized military outposts in Kachin state.
On Nov 13, a new wave of attacks kicked off in Rakhine state. Simultaneous sieges were also reported in parts of Sagaing, Chin, Mon, Kachin and Kayin states.
What motivated the attacks?
Operation 1027 is widely viewed as a campaign to end military rule, two years after the junta unseated a democratically elected government led by Nobel laureate Aung San Suu Kyi, and triggered a bloody crackdown on dissent.
But the primary impetus is territorial disputes, according to armed conflict observer Amara Thiha from the Norway-based Peace Research Institute Oslo.
He said each of the ethnic armies in the alliance had its own agenda, from seizing control of land to expanding influence on trade routes.
"When you wage a war, you need some kind of political justification," Mr Amara Thiha said. "And currently, the most acceptable one is to work on the cause of ending military dictatorship and rule."
Other observers like Jason Tower, Myanmar country director at the United States Institute of Peace, believe Operation 1027 has China's fingerprints over it.
In an interview with the US-funded Radio Free Asia news agency, Mr Tower noted that one of the Brotherhood Alliance's justifications for its offensive was to take down scam syndicates and free victims of human trafficking.
This has been a major bugbear of Chinese authorities and exactly what Beijing had been calling on the junta to address in the months prior, said Mr Tower.
What actual gains have the rebels made?
The ethnic resistance have reported overcoming more than 150 military outposts across Myanmar since Oct 27. But it's unclear if they can sustain this momentum.
"Overrunning military outposts is one thing. Capturing entire cities is another," said Mr Amara Thiha.
He was unsure if the Brotherhood Alliance and other ethnic armies had the resources and logistical support to pull that off.
But the researcher acknowledged that they had, in the past weeks, sustained one of the most expansive and coordinated resistance offensives in years.
Any edge gained in the opposition's struggle might well be psychological, with over 400 of the junta's soldiers believed to have capitulated or fled without a fight.
"The biggest impact appears to be on fatigue and morale," said Mr Amara Thiha. "Some outposts have disbanded or surrendered without resistance.
"The reasons can be multifaceted: Low morale, strategic retreat or the awareness that reinforcements are unlikely due to stretched resources."
Junta chief Min Aung Hlaing has reportedly asked all reservist troops to be on standby and prepare for frontline battle.
What's been the impact on Myanmar and the region?
Myanmar's junta-backed president has warned that the prolonged fighting risks breaking up the country.
At least 200,000 people have fled the violence thus far, on top of 1.1 million displaced since the 2021 coup which has plunged Myanmar into worsening civil strife,?humanitarian crisis and economic ruin.
Immediate neighbours China and India have been on the receiving end of thousands of refugees. Beijing has also reported its citizens being killed in the clashes.
Hundreds of Thais, an unspecified number of Filipinos, and one Singaporean were also?evacuated?over the weekend from a town in northern Shan state, with authorities in Bangkok saying?some of them were victims of human trafficking and might be involved with telecom fraud gangs.
Shortly after the Oct 27 offensive was launched, Indonesian foreign minister Retno Marsudi told the media that Jakarta - which is still ASEAN chair - will continue to engage with stakeholders in Myanmar until the end of the year.
But these parties being presently engaged in active armed combat adds yet another layer of complexity to the regional bloc's efforts to resolve the situation.
Ten-member ASEAN has been trying without much success to enforce a peace plan calling for an end to the violence in Myanmar and aid delivery among other measures.
What could happen next?
Operation 1027 has forced the junta's hand in several areas, particularly in relation to the white-collar crime situation that has rankled China.
First, it replaced its top man in Kokang in northern Shan state, a member of the ultranationalist, pro-military Union Solidarity and Development Party.?Local media The Irrawaddy suggested the lawmaker, Myint Swe, had been scapegoated for failing to control the scam syndicates in northern Shan.
Last week, the junta arrested three alleged ringleaders and 286 individuals involved in these online syndicates.
It remains to be seen if ramping up crackdowns on scam gangs?will help the junta back into Beijing's good graces.
But there is still trust and support between the two countries, said Mr Amara Thiha.
"At the national level, communication is still there. There's also news about Chinese naval fleets making a port visit to Myanmar," he said.
Operation 1027 is also starting to show signs of de-escalation, according to the researcher.
He observed that no new conflict areas have emerged in recent days, and that the junta's?military reinforcements were "slowly but steadily gaining the upper hand".
Not all of Myanmar's more than 20 ethnic militias have joined the offensive either, for fear of the junta's subsequent retaliation.
And should the violence get out of hand, China can be expected to enter the fray, Mr Amara Thiha suggested - to mediate between parties as well as ensure its economic and geopolitical?interests?are preserved.