Commentary: What we lose when night markets fade out in Singapore
Vendors and customers say that pasar malam have changed with high rentals and narrower offerings - but night markets are still an important part of Singapore's cultural heritage, says Annie Tan.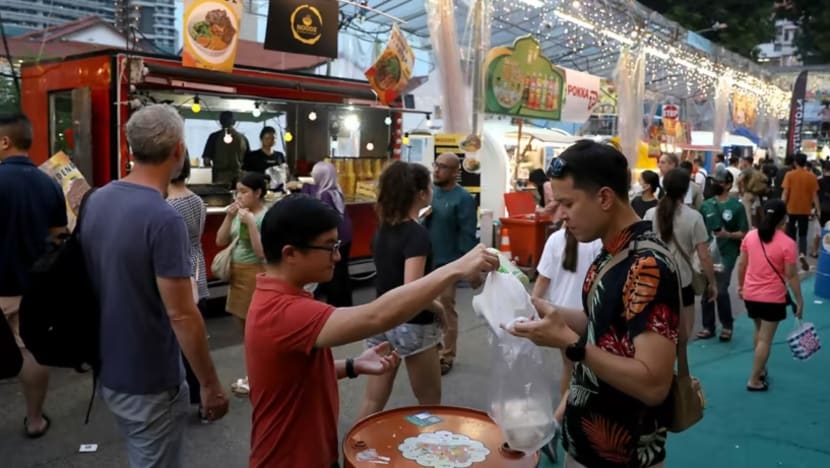 New: You can now listen to articles.
Sorry, the audio is unavailable right now.
Please try again later.
SINGAPORE: I remember a time when the festive season did not officially begin until pasar malam (night markets) started sprouting up around the island.
Whether it was Chinese New Year, Hari Raya Puasa or Deepavali, heading to these bazaars was an essential part of the festive experience. It was amid the dizzying rows of snacks, kitschy decorations, blaring music and onslaught of sweaty shoppers that the holiday truly came to life.
Today, much of this magic is fading. In place of queuing and jostling, many of us simply stroll through the season's offerings on our mobile phone and amass our holiday goodies without breaking a sweat.
Reports suggest that the recent Deepavali bazaar at Birch Road saw less footfall than before and had many vacant stores, partly due to rising rentals. Earlier in April, stallholders at the Ramadan bazaar at Geylang Serai also saw decreasing profits. Some were even evicted because they were unable to pay rent.
High rentals have also translated to higher product prices at these bazaars, once known to be bargain havens. When authorities announced that there will be a S$15,000 cap on stall rentals for the 2024 Ramadan bazaar, netizens said that prices are too high anyway, and the bazaar is not worth visiting anymore.
With night markets losing their popularity in Singapore, will our future generations have to travel to Thailand or Taiwan just to experience the chaotic rush of bargain hunting while chomping on street food? If so, how will this erode our cultural heritage and collective memories?
REMEMBERING THE PASAR MALAM OF OUR CHILDHOOD
Pasar malam were once a big part of our lives in Singapore, going as far back as the 1920s, according to the National Heritage Board. Though pasar malam sites were shut down throughout the 1970s because of noise pollution and traffic congestion, they were revived again in the 1980s.
That was how I remember my childhood, enlivened by weekend jaunts to the pasar malam. In those days, it was not just a roving market but also a fun fair with carnival games and cotton candy makers.
In the 80s, I enjoyed my first exhilarating Ferris wheel ride at a pasar malam. And in the 90s, my friends and I, then teenagers, shopped for bags, trinkets, CDs and DVDs at its makeshift stalls.
Just like our UNESCO-listed hawker culture, pasar malam were a big part of our street food scene, offering a mishmash of food from different cultures such as kueh tutu, kebabs, imitation shark fin soup, Taiwanese sausages and vadai.
It was also a big part of our national culture of bonding through food. Perhaps owing to the organic nature of night markets, dining rules were relaxed or non-existent here. It was the only time we could start with dessert first, move on to a skewer, chase it down with a sweet drink and then round the meal with another dessert.?
I spent many weekend evenings there with friends, eating our way from stall to stall in our worn-out shorts and slippers, chatting loudly with our mouths full of food and our faces drenched in sweat. It was one of the most authentic bonding experiences.
ARE PASAR MALAM A RELIC OF THE PAST?
But since the turn of the millennium, the allure of pasar malam seems to be diminishing against the rise of air-conditioned malls. The markets were forced to close during the pandemic in 2020. When they finally returned in 2022, they opened to a post-pandemic world transformed by digitalisation.
Consumers have evolved. Many are going online for better bargains and have grown used to the comforts of food delivery.
But the pasar malam has not evolved alongside consumers. Friends tell me that its food offerings are homogenous today, while products are too pricey and not well curated. Although some bazaars offer rides and carnival games, they pale in comparison to those at theme parks and arcades.
Driven by a sense of nostalgia, I still take my children to the pasar malam occasionally, but it is hard not to see how they are fast losing their relevance in modern Singapore.
Yet perhaps this is not the only way forward for our beloved night markets of old. Indeed, even today, famous markets in other parts of Asia such as the Shilin Night Market in Taipei and the Chatuchak Market in Bangkok continue to draw crowds, despite the proliferation of malls and e-commerce.
Air conditioning is good, but consumers are always looking for new experiences. So perhaps our night markets simply need to offer more diversity beyond the standard Thai milk tea, Ramly burgers and cheap knockoffs.?
If rentals could be kept affordable, pasar malam would also make a great incubation ground to test out new food and lifestyle concepts, or support the existing e-commerce sites of home-bakers and small businesses.
Indeed, as a food and shopping haven, Singapore would benefit from preserving our street food and shopping. It would be a great pity if our future children would only be able to experience cultural events at theme parks, and street food at the basement of a mall.
Annie Tan is a freelance writer based in Singapore.