Commentary: Voices of tensions behind the 'kiasu parent' label
Many parents start off determined not to be kiasu, or afraid to lose - but as their children enter primary school, many begin to feel stuck between a rock and a hard place, says Dr Eugenia Koh-Chua, a former teacher and mother of two.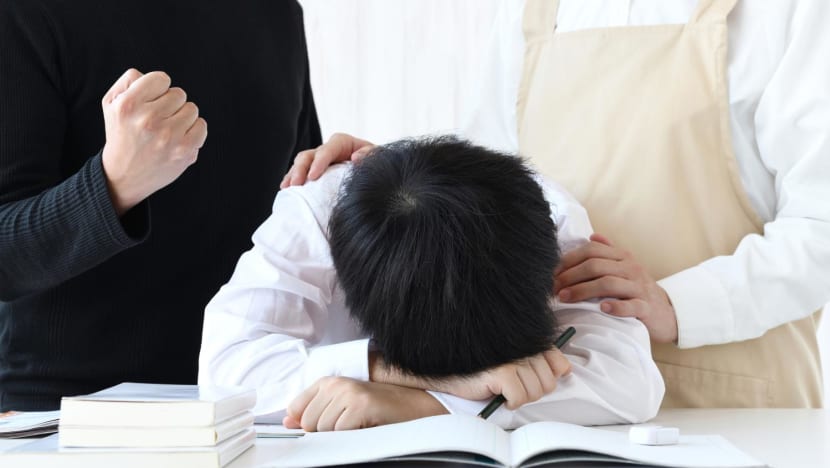 New: You can now listen to articles.
Sorry, the audio is unavailable right now.
Please try again later.
MELBOURNE: On Wednesday (Nov 22), students across Singapore will be receiving their Primary School Leaving Examination (PSLE) results. The PSLE has long been a significant event in Singapore; the results that the 12-year-old students receive can have far-reaching implications on their academic path and opportunities in the future.
It's in this atmosphere of high expectations and anticipation that we find ourselves immersed in the age-old discourse surrounding academic achievement, the infamous "kiasu parenting" culture, and the well-being of our children.
Kiasu, a Singaporean colloquial term, loosely translates to "afraid to lose" or "fear of missing out". In the context of parenting, it refers to a competitive approach to raising children. It is not uncommon to hear of working Singaporean parents - armed with past-year examination papers from so-called elite schools - taking leave to help their children study during PSLE year.
The prevailing narrative often portrays kiasu parenting as a social villain, suggesting that parents might be unaware of the potential drawbacks of their relentless pursuit of academic perfection.
However, the reality is far from straightforward.?These complexities are intricately interwoven into the dynamics of each family's interactions with the broader environment.
HAPPY CHILDHOOD OR ACADEMIC SUCCESS?
Many parents start off determined not to be a kiasu parent. But as their children enter primary school, they begin to feel stuck between a rock and a hard place - to either fail their children in academic success or a happy childhood.
As a former teacher in Singapore and a mother of two children, my personal journey has inspired me to investigate the influence of kiasuism on parenting in a doctoral study.
As interviews with more than 30 participants reveal, the challenge of aligning with national curriculum standards resonates deeply with parents.
While some embrace the idea of a more playful childhood for their children, they cannot help but fret about the widening gap in academic expectations between preschool and primary school.
"When they're young, they get to play, learn at their own pace. Then suddenly, in Primary 1, they must know how to read. If they don't know how to read, they will lose out because they cannot do all their homework," Emma, a mother of two preschoolers told me.
This challenge is further compounded by the substantial class sizes in primary schools, where the average class hosts 40 students.
For many, providing tuition support emerges as a strategy in bridging educational gaps, even if they initially harbour reservations about supplementary classes. It's not uncommon for students to have multiple tuition classes, sometimes even on weekends.
AJ, a father of three, shared his journey: "I resisted engaging a tutor until my boy was in Primary 4 and I realised he was struggling."
Participants said that schools' expectations for student performance varied across different school types, leading to a dissonance with the broader message conveyed by the Ministry of Education's (MOE) Teach Less, Learn More vision launched in 2005.
Despite the MOE's slogan that "every school is a good school", many participants believe that elite and branded schools offer superior learning opportunities, due to additional sources of funding and support from alumni networks.
Concerns about school safety, the level of parental involvement and the lifelong social networks created within these institutions emerge as the top considerations influencing parents' choices regarding preferred schools.
MOTIVATIONS BEHIND KIASU PARENTING
The implicit competitive mindset within the educational arms race has Singaporean parents frequently comparing themselves with their peers or their children's peers.
While less experienced parents find sharing with other parents helpful in navigating the complex education landscape, these interactions can lead to social comparisons and brew feelings of inadequacy.
Guilt is a highly cited emotion among parents, particularly working mothers. They feel the weight of social expectations rooted in traditional gender roles, where mothers are responsible for their children's development.
Parents who deliberately opt for the non-kiasu parenting approach endure frequent self-doubt and inner conflicts within an education system that persists in rewarding opportunities based on academic results.
These anxieties are exacerbated through their own work experiences of the past, particularly for those who felt that qualifications, academic records and school reputation may have played a deciding role in their job hunt.
Am I a bad parent if I don't send my child for tuition? Listen to Imperfect by CNA Insider:
In recent years, Singapore has made significant changes to its education system to foster a more holistic and well-rounded approach to learning. These include removing mid-year examinations and phasing out the streaming of students into Express, Normal (Academic) or Normal (Technical) based on their PSLE results.
Parents have generally embraced the education reforms, with many describing them as "moving in the right direction". However, individual policies drew mixed support and criticism, especially from older parents who have experienced earlier reform policies.
In my doctoral study, the most discussed education policies were the Direct School Admission (DSA) scheme, the removal of mid-year examinations, the new PSLE scoring system and full subject-based banding (SBB).
The DSA scheme allows students to secure early placements in their desired secondary schools based on their talents (for example, sports, performing arts and leadership) before taking the PSLE.
However, many parents expressed apprehension about the skills and talents nurtured through the DSA scheme, fearing employers might prioritise academic performance over these abilities, thereby restricting job prospects.
Another point of contention with the DSA scheme was its inability to distinguish between natural talent and honed abilities.
While welcomed by parents of younger children, the removal of mid-year examinations faced scepticism from parents with older children, who deemed it a superficial solution that did not address the root causes of parental stress and anxiety.
This scepticism was fuelled by the continued significance of the PSLE as a placement tool, rendering the removal of examinations a source of uncertainty regarding students' academic readiness and contributing to heightened competitiveness driven by anxiety.
Additionally, concerns arose about the accuracy of the new PSLE scoring system in reflecting the abilities of top-performing students.
In contrast, the full SBB policy garnered the most optimism, with many viewing it as a significant step in the right direction that held the potential to transform the education landscape.
LOOKING BEYOND THE LABEL
In the context of Singaporean society, the term "kiasu parenting" is often imbued with a negative connotation, reflecting a parenting approach that prioritises children's academic success over personal development and well-being.
While it is important to address the issues associated with this style of parenting, it's equally crucial to look beyond the label and broaden our perspective.
We must recognise that parents grapple not only with their individual choices but also with external pressures from schools, peer influences, employers, societal norms and education policies.
Kiasu parenting is a complex issue influenced by systemic factors that drive parents to seek the best opportunities for their children. Understanding the multifaceted nature of these external pressures will allow us to work towards policies and cultural shifts that support parents and children on their educational journey.
Dr Eugenia Koh-Chua is a researcher who recently completed her doctoral study, A Bioecological Perspective Of Singaporean Parents' Negotiations With Kiasu And Meritocracy Amidst Education Reform. She is a mother of two and currently resides in Melbourne, Australia.
All names mentioned in this commentary are pseudonyms used to protect the privacy of individuals.