Commentary: Biden-Xi meeting at APEC a reminder of the importance of global summits in dangerous times
A global forum provides a useful pretext for leaders to meet without either side feeling they are signalling weakness, says this professor of international relations at La Trobe University.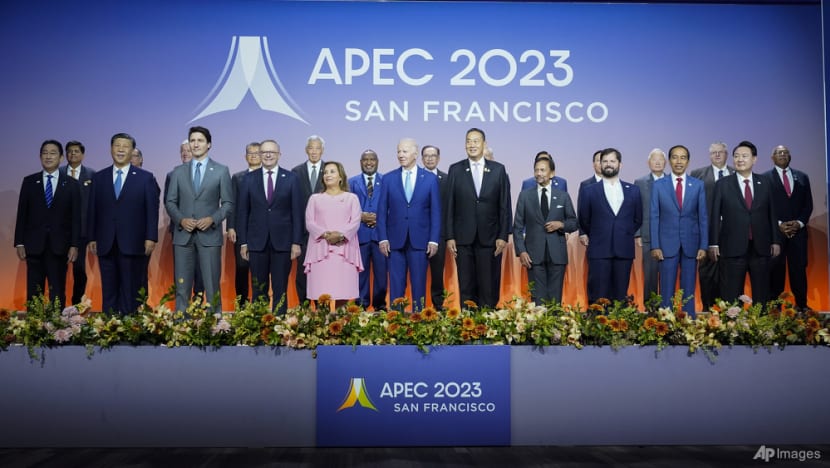 New: You can now listen to articles.
Sorry, the audio is unavailable right now.
Please try again later.
MELBOURNE: For three decades, the leaders of the Asia-Pacific Economic Cooperation (APEC) forum have met to advance their shared interests in improving trade and investment across the region.?This year's meeting in San Francisco has a particular prominence.
United States President Joe Biden and his Chinese counterpart Xi Jinping have met for the first time since last year's G20 summit in Bali, amid efforts by the two great powers to improve their fraught relationship. APEC is normally held alongside the annual Association of Southeast Asian Nations (ASEAN) and East Asia summits, but those jamborees were held a little earlier this year, giving the trans-Pacific grouping some much-needed clear air.
Established in 1989, APEC was intended to drive trade liberalisation in the Asia-Pacific at a time when global efforts had stalled. Then US president Bill Clinton was the inaugural host of the leaders' meeting in 1993. In the 1990s, the grouping launched ambitious goals about free trade and took on what now seems like a curious mix of members.
APEC is one of the few international bodies in which Taiwan participates, alongside Hong Kong and the People's Republic of China. The grouping manages this by having member economies, rather than states. It also includes Canada, Mexico, Peru and Chile, but not India.
While many countries use the "Indo-Pacific" label to describe the region, APEC is a reminder that not so long ago the region's future was imagined in rather different terms.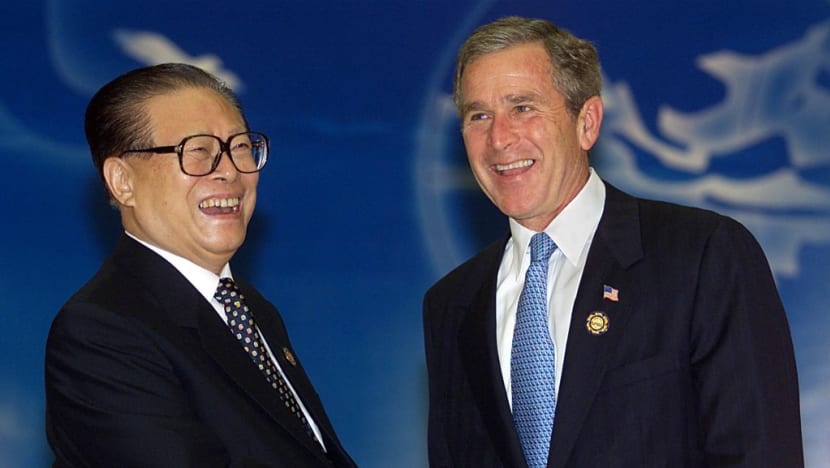 GEORGE BUSH AND JIANG ZEMIN RESET TIES AT 2001 APEC
By the early 2000s, political interest in advancing free trade had ebbed and APEC's influence began to wane. This was exacerbated by ASEAN's offshoots, such as the East Asia Summit and the ASEAN Regional Forum, appearing better placed to advance a cooperative agenda.
But the grouping remained valuable to its members less for the specific policy benefits it could provide, and more for the annual opportunity to gather and occasionally manage crises.
In 2001, the APEC summit in Shanghai allowed then US president George W Bush and Chinese leader Jiang Zemin to meet and reset their relations following an incident in April that year in which a US EP3 reconnaissance aircraft was forced to crash land on Hainan Island. China held 24 crew members and the craft for ten days.
US-China relations were badly damaged, and APEC created the space for a high-level reset. Then, as now, the forum provides a useful pretext for the leaders to meet without either side feeling they were signalling weakness by travelling to the other's territory.
SUCCESSFUL MEETING BETWEEN XI JINPING AND JOE BIDEN
Two decades later, and US-China relations have been in their most difficult phase since the normalisation of relations in the 1970s. The much-anticipated meeting between Xi and Biden appears to have been a success.
In the lead-up, both sides sought to manage expectations, making clear that neither anticipated any major breakthrough in relations. However, the four-hour discussion seems to have produced several important achievements.
Perhaps the most important, at least in terms of managing risk, is the reopening of communication channels between the countries' militaries, which had been shut down by Beijing in response to the then US House Speaker Nancy Pelosi's visit to Taiwan in August last year.
China has also agreed to crack down on exporters who manufacture chemicals used in fentanyl production and have agreed to establish a forum to maintain separation between AI and nuclear weapons systems.
TAIWAN, A LIGHTNING ROD FOR HAWKS ON BOTH SIDES
Reportedly, the two leaders also discussed the question of Taiwan. The island has long been a regional flashpoint, but in recent years it has become a lighting rod for hawks on both sides of the Pacific. Both would benefit from a less heated environment.
More broadly, Biden and Xi appear to have succeeded in putting a floor under the relationship, and while they're still some way from an agreed set of "rules of the road" in managing their regional competition, Asia can take some comfort that communication between the two is now better and the trajectory of the relationship is more positive than it has been.
Beijing and Washington have incentives for improving their relations. China's economy is its worst shape since the reform era began. Biden faces wars in Ukraine and Gaza, and has surprisingly poor domestic political stocks less than a year out from the presidential election.
While the summit has improved things, the expectation bar was set low. The contest between the world's two biggest economies remains heated, largely without guardrails and of immense risk.
MEAGRE TRADE DEALS
APEC is more than just the US and China bilateral meeting. The group is about economic cooperation, and the US will also try to deliver more on the so-far meagre offerings of its Indo-Pacific Economic Framework (IPEF).
While its efforts to advance things like infrastructure standards and supply chain resilience will be appreciated, the real prize - improved access to the US market - remains politically off the table. This will limit what Washington can achieve.
The members of the Comprehensive and Progressive Agreement on Trans-Pacific Partnership (CPTPP), a trade agreement established after the US withdrew from its predecessor the Trans-Pacific Partnership (TPP), will also gather to consider new applicants. Taiwan and China are prominent among these, but it is unlikely either will be allowed to join in the short term.
APEC 2023 is a reminder of how important multilateral gatherings are in times of geopolitical crisis. Without the excuse that the summit provided, there can be no doubt Xi and Biden would have found it much harder to meet and achieve what are, in the context of their parlous relations, some important positive steps to stabilise regional geopolitics.
Yet it is also a salutary reminder of the real limits of multilateralism in the region. The summit normally concludes with an agreed joint statement, but differences in views about Russia's invasion of Ukraine, the Gaza conflict and myriad other issues mean that even the veneer of concord is unlikely.
The old expansive institutions seem not to be well suited to the current period of heightened geopolitical tension.
Nick Bisley is Dean of Humanities and Social Sciences and Professor of International Relations at La Trobe University. This commentary first appeared on The Conversation.