Odette launches first take-home dessert box by Asia's 50 Best Pastry Chef Louisa Lim
The festive box containing three desserts is Louisa Lim's expression of her favourite Christmas memories, which include unwrapping Ferrero Rocher chocolates as a child and eating them layer by layer.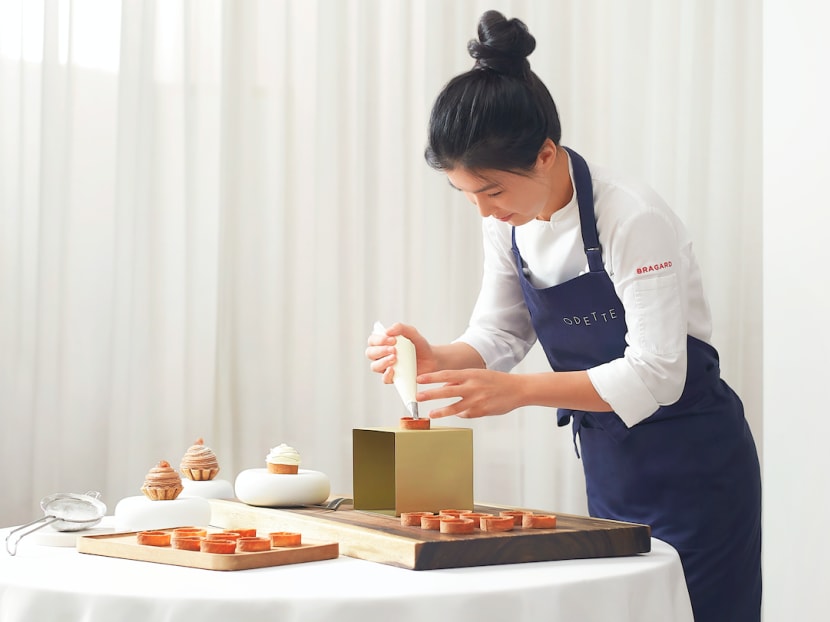 New: You can now listen to articles.
Sorry, the audio is unavailable right now.
Please try again later.
Just a glimpse of chef Louisa Lim's face lights up all the pleasure centres in my brain. In Pavlovian fashion, I've come to associate the pastry chef at three-Michelin-starred Odette with sugar in all its best and noblest forms.
Ordinarily, you'd have to score a coveted table at Odette and enjoy a multi-course meal to taste her beautifully plated and thoughtfully designed creations. But this year, for the first time – pandemic take-home boxes not included – Odette is launching a limited-time-only dessert box that you can savour slowly at home: Three festive desserts by Lim, who was named this year's Asia's Best Pastry Chef at the Asia's 50 Best Awards.
Christmas is her favourite time of the year, Lim said, and that's why it's significant that for a holiday she associates with sharing and gifting, the box is a chance for her to connect with "not just the guests of Odette, but also people who are interested in dessert. This, to me, is a very important part of Christmas as well… It's something people can bring home and share with their family."
The three petits gateaux she's created are like Lim herself: Restrained on the outside, ebullient inside. "This box is very me. The desserts are very simple and clean looking, but there are a lot of layers of textures where I want them to be," she said.
She started out with the idea of a winter colour palette of white and browns; the colours then inspired flavour profiles.
The first dessert is a sleek white confection of coconut mousse and jasmine-infused Chantilly cream; inside, there's a brunoise of tropical fruits including mango, lychee and pineapple. Hints of kampot pepper and kaffir lime add sophistication. "When you cut into it, you'll see many layers and textures."
In the second dessert, chestnut is the star: It's Lim's take on a classic Mont Blanc, using her favourite winter ingredients of Ardeche chestnut and Corsican clementines, with a puff pastry layer, Piedmont hazelnuts and a touch of rum.
During her four years in Paris as a student at Le Cordon Bleu, she discovered chestnuts and clementines at work and at the markets. These seasonal fruits "became very Christmassy for me – very special ingredients that I like to work with during Christmastime." While her chefs in France were fond of using chestnut in combination with blackcurrant, "my personal favourite is clementine, because I like the citrusy flavour that goes with the chestnut." She recalls her first taste of clementines from Corsica: They were "like a mandarin orange but very juicy and sweet with almost no sour taste. The Corsican ones are really good – and they always come with a stem and leaf."
The third dessert, a hazelnut chocolate delice, is inspired by "my favourite childhood snack, which is Ferrero Rocher." Say what? Asia's 50 Best's Best Pastry Chef likes supermarket chocolate, too? "Because of the layers of texture you get when you put it in your mouth – as a kid, I would eat it layer by layer," she recalled. "The chocolate crust first, with the almonds. After that, you get the wafer layer and then the decadent, more creamy centre, with the hazelnut."
The journey to the centre of the Ferrero Rocher is replicated in her dessert, with its hazelnut praline, Valrhona's Guanaja 70 per cent dark chocolate, feuilletine and salted chocolate sable. "When you cut into the cake, you get all the different crispy layers, the oozy praline, a little touch of fleur de sel that rounds off the palate, and then a little bit of Christmassy orange zest."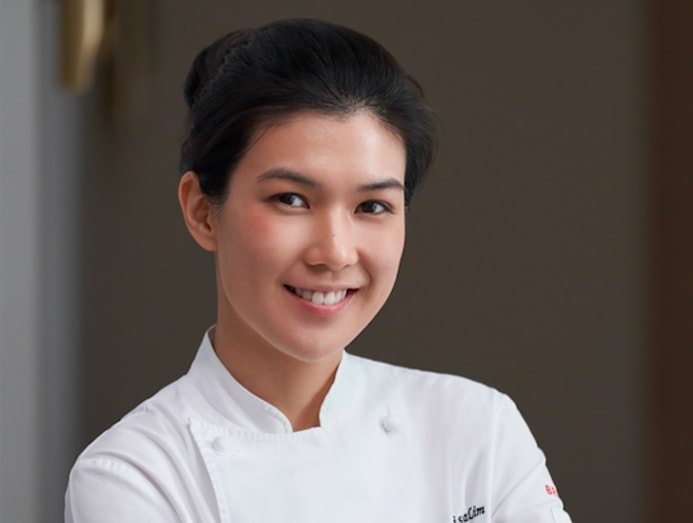 Weeks of work went into creating: "Day and night, I thought about the flavours, how I wanted the desserts to look and taste, how I wanted people to feel when they ate them." Even the packaging of the box was conceptualised "like a Christmas gift", she said.
When Lim celebrates Christmas with her family, though, she slaps together something last-minute with whatever she has in her pantry. Relatable, right?
"I come from a typical family. We spend Christmas at the table at a relative's house," she shared. "Everyone's there, there's food prepared by each relative, like a pot luck situation. We have Asian food and some meats, like pork knuckle we buy from the supermarket. It's a time for get-togethers, feasts. There's a lot of food, conversations and desserts.
"I make something, but it's always simple – nothing like a croquembouche! More like a simple chocolate cake. It depends on what I have on hand, my mood and the time left to do it – very rushed!"
Guess this year, she can just show up with her own boxes under her arm.
The "Gourmandises de Noel by Louisa" festive dessert box (S$68+) is available now for pre-order for self-collection at Odette or its sister restaurant Claudine until Dec 27. For more information, visit www.odetterestaurant.com/gifting