Arang's private dining chef opens hawker stall in Yishun selling nasi kerabu with freshly grilled meats
At Kerabu by Arang in Yishun Park Hawker Centre, you get a hearty rice dish with a choice of charcoal-grilled chicken, fish or lamb.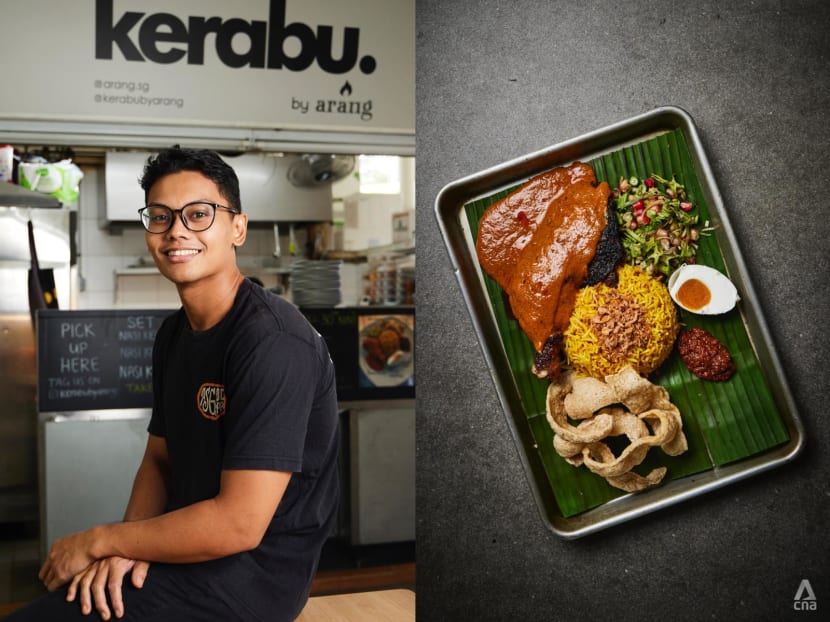 New: You can now listen to articles.
Sorry, the audio is unavailable right now.
Please try again later.
Popular private dining outfit Arang, where Nurl Asyraffie Mohamed Shukor served a fine-dining style meal grounded by Malay cuisine's traditional techniques, stopped operations when Asyraffie's tenancy at his Golden Mile Complex apartment ended, to the disappointment of his fans.
?
But the young chef is back – this time, at his brand new hawker stall.
Unlike Arang, this project is all about "not very atas food" without the "fancy-schmanzy tweezer action". Instead, Asyraffie relishes the opportunity to make his cooking accessible to a wider audience.
"Many people were asking, 'Are you going to do a cheaper version (of Arang)?' Maybe this is it," the 32-year-old told CNA Lifestyle.
Kerabu by Arang, located in Yishun Park Hawker Centre, serves up nasi kerabu, a traditional Malay plate of rice with grilled meat and sides.
You get a serving of nasi kunyit or turmeric rice, with a choice of chicken, fish or lamb, paired with kerabu salad, fish keropok, sambal budu and some salted egg. From now until the end of November, an opening offer sees the dishes priced at S$8.50 for the chicken, S$11.50 for pomfret and S$15.50 for lamb ribs.
The style is inspired by Asyraffie's travels through Malaysia and Thailand, during which "I noticed that grilling is typically done especially in the kampung areas. At Kerabu, we use coconut husk in the grill for an added smoky flavour. We also use banana leaf to wrap our delicate proteins such as our pomfret fish, making the dish fragrant".
In addition, "We use turmeric rice instead of the usual blue pea rice. The turmeric rice elevates the flavours and is visually cohesive with the other elements of the dish," he said.
"The highlight of the dish is actually the kerabu salad", which uses fresh winged bean, pomegranate and pomelo. "We added the two fruits to create some freshness and balance out the overall flavour."?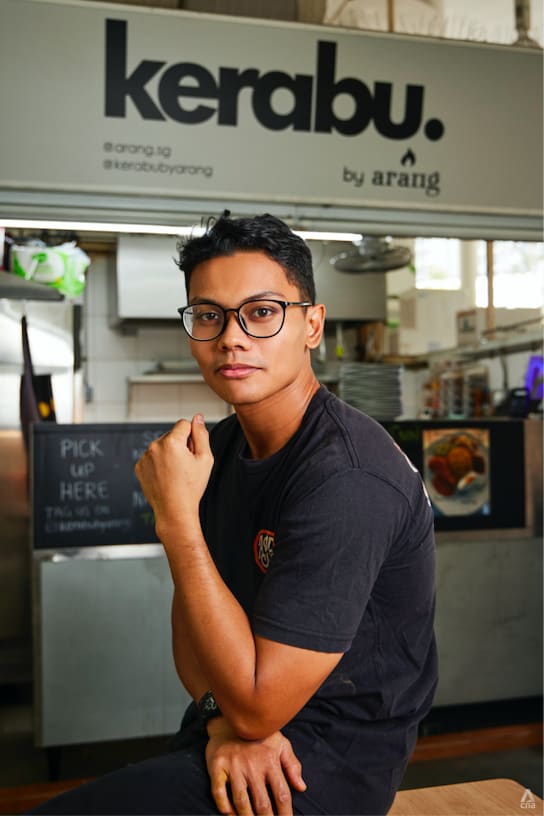 "I just want to do one thing, and do it very well. That's how I see it," he told us. "I want to focus on nasi kerabu, and be the best."
His goal is to build Kerabu by Arang into something "like The Coconut Club", which is known for its nasi lemak – something "casual, not unaffordable".
And, "If The Coconut Club can sell nasi lemak at S$18", he figures he can price his nasi kerabu at a level that's higher than your average hawker centre dish. After all, his cooking is very labour-intensive. Even his sambal is made from scratch – not to mention the hours and the technique that go into personally grilling each order over a charcoal fire.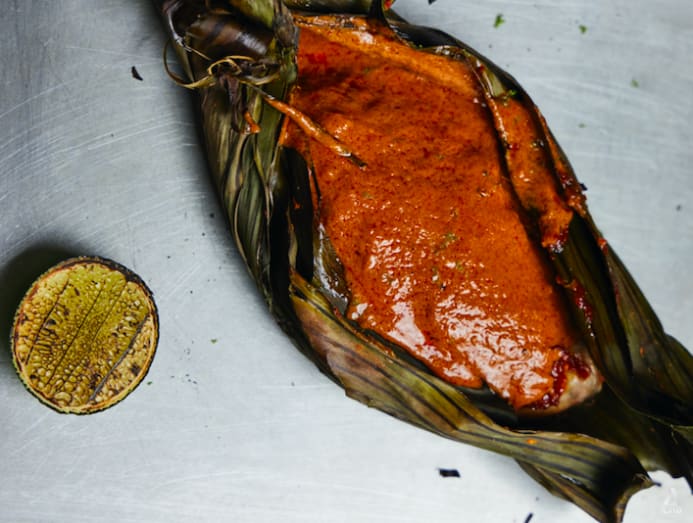 From next month onwards, he plans to add a few larger sharing dishes to the weekend menu, with possibilities like ikan bakar.
Venturing into a hawker centre is a "see what happens" move for Asyraffie. After all, "it's more simple and straightforward" than having to worry about the business aspects of a restaurant, for example.
The SHATEC-trained chef admits, though, that there has been a learning curve, as his background has always been in restaurants.
"It's a very different game," he said. "I thought I was very hardworking, but these (hawkers) are 10 times more hardworking than me!"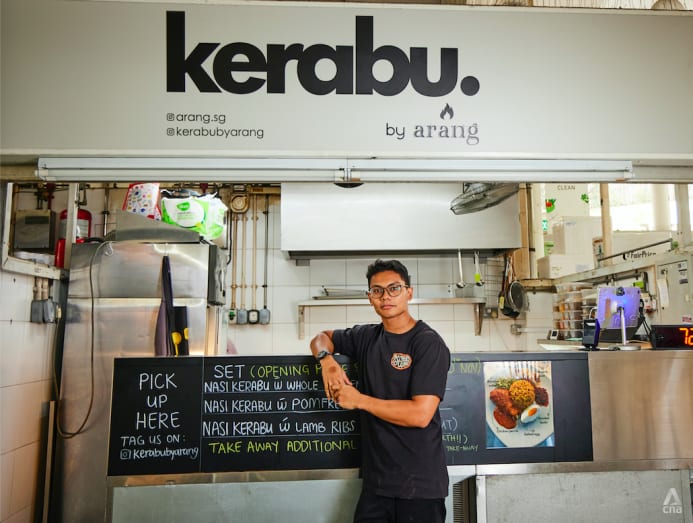 As a hawker, "it's more about volume – like (processing) 50kg of chicken in two days. In one hour, I can send 30 to 40 plates out of the kitchen". On top of that, there are the space constraints, and the hours – he gets up at 6.30am, is at the stall by 7.30am, and only gets to bed at 3.30am. "It's a very different level of cooking. It's very intense. I feel like most Michelin chefs wouldn't be able to make it here," he said with a laugh.
As if running one business isn't enough, he also plans to kick start Arang again in January – this time, taking his private dining experience out to people's homes. He already has a couple of bookings for next year, he shared, even though he hasn't officially opened those yet. Those interested in Arang events should follow the Instagram page @arang.sg for updates.
Kerabu by Arang is at Yishun Park Hawker Centre, 51 Yishun Ave 11, #01-04.